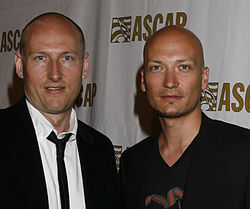 Stargate
is a Norwegian record producing and songwriting team, composed of
Tor Erik Hermansen
(born 14 October 1972) and
Mikkel Storleer Eriksen
(born in 1972), based in New York City. The team's genres include R&B, pop and hip hop. Stargate was established in Trondheim, Norway.
Stargate broke into the American recording industry in 2006, with the release of the Billboard Hot 100 No. 1 single, "So Sick", produced and co-written by the team and performed by singer Ne-Yo. They also produced and co-wrote with singer Beyoncé Knowles her worldwide hit single "Irreplaceable", which topped the Billboard Hot 100 for ten consecutive weeks. Throughout their career they have been noted for their extensive work with Rihanna, writing and producing three consecutive Billboard Hot 100 No. 1 singles with the Barbadian singer in 2010 and 2011.
The team has worked with various American artists and received mainstream awards including the Songwriters of the Year accolade at the 2007 ASCAP/PRS Awards and the 2009 ASCAP Pop Songwriters of the Year. They have also been named the Number One Producers of the Year on the Billboard Hot 100 Year End Chart in 2006 and 2008, and Hitmakers of the Year in Rolling Stone magazine in 2008. A documentary about Stargate, which follows the duo from childhood through to their careers in America, aired in Norway on 25 February 2012.
Collaborations with Drake
Edit
Stargate has collaborated with Drake in:
Ad blocker interference detected!
Wikia is a free-to-use site that makes money from advertising. We have a modified experience for viewers using ad blockers

Wikia is not accessible if you've made further modifications. Remove the custom ad blocker rule(s) and the page will load as expected.