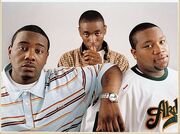 Little Brother
was an American alternative hip hop group from Durham, North Carolina that consisted of rappers
Phonte
and
Big Pooh
(from 2001 to 2010), and DJ/producer
9th Wonder
(from 2001 to 2007). The group produced four acclaimed studio albums and six mixtapes during their nine-year existence.
Little Brother was highly regarded among fans and critics.
Phonte Coleman, better known as Phonte, is a Grammy nominated American rapper, formerly of the now defunct North Carolina trio Little Brother and one-half of the duo The Foreign Exchange. He has also recorded R&B-flavored output as a singer (often under the pseudonym Percy Miracles). His rhymes tend to be no-frills perspectives on working-class life.
Big Pooh
Edit
Big Pooh (born Thomas Jones) is the stage name of an American rapper, who, along with fellow rap artist Phonte, was a member of the acclaimed North Carolina hip hop group Little Brother. In addition to numerous records and EP's by Little Brother, Pooh released a solo album in 2005 entitled Sleepers to positive critical review. Furthermore, he has been guest featured on numerous tracks by other artists. Big Pooh also appreciates basketball and has served as a guest writer on a basketball blog.
9th Wonder
Edit
Main article: 9th Wonder
Patrick Douthit (born January 15, 1975 in Winston-Salem, North Carolina), better known as 9th Wonder is a hip hop record producer, record executive, DJ, lecturer, and Rapper from Durham, North Carolina, U.S. He began his career as the main producer for the group Little Brother, and has also worked with Mary J. Blige, Jean Grae, Wale, Jay-Z, Murs, Drake, Buckshot, Chris Brown, Destiny's Child, J. Cole, Kendrick Lamar, Erykah Badu, Ludacris, Mac Miller, David Banner, and Lecrae. As of 2010, 9th Wonder raps under the name of 9thmatic.
Ad blocker interference detected!
Wikia is a free-to-use site that makes money from advertising. We have a modified experience for viewers using ad blockers

Wikia is not accessible if you've made further modifications. Remove the custom ad blocker rule(s) and the page will load as expected.